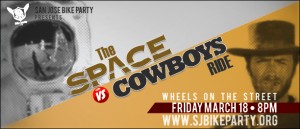 So are you a Spaceman or a Cowboy? Who will be victorious as we gear up for another great ride? It's up to you to decide what gear you bring – be it rayguns or revolvers, but we recomend that all of our riders be prepared for all of the eventualities that can happen on a bike ride. Unfortunately, our weather control ray is busted, so you should check the skies and draw your own conclusions.
Details below

Wheels hit the street at 8:00
If this is your first ride with us, welcome! To get yourself ready for this month's gathering, read about how we ride. Remember your lights, ride safely, and have fun!
Feeder rides pending. We need leaders so step up and claim a feeder ride. If you're riding to the start anyways, why not hookup with other people and ride over together? It's a great way to meet folks.
Route map & turn by turn directions:
Feeder Rides
NSJ/SC Led by Ian leaving Mercado @ 6:30pm
Downtown SJ — Leader Needed
ESJ — leaving James Lick High School (near the parking lot) @ 6:30pm (see discussion in comments)
Anywhere else someone wants to lead a ride from? Post a message in the comments section below!