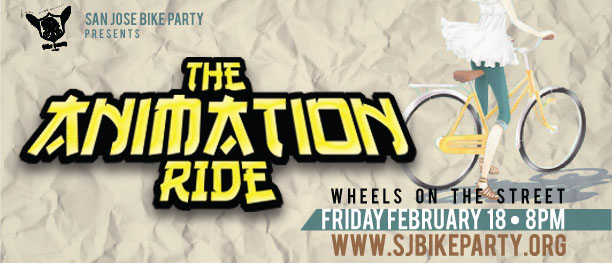 It's almost time to Get Animated!
Hopefully you have you costumes all picked out and have some decent lights as we are going down some Really Dark Streets this month (no Street lights where we are going)
Details posted below.
The Route
Wheels hit the street @ 8!
Pre Rides
North SJ/SC starting at rivermark peets leaving at 6:30 led by Ian
Campbell – Led by???
please review how we ride
If you follow these eight rules, Bike Party will be safe and a positive place for riders, drivers, pedestrians, and the community
1. Stay in the Right Lane NEVER ride the sidewalk. NEVER ride against oncoming traffic.
2. Leave Nothing Behind
3. Stop at Red Lights.
4. Ride Straight, Ride Predictability.
5. Roll Past Conflict.
6. Leave No One Behind.
7. Ride Sober! It's illegal and dangerous to ride a bicycle inebriated.
8. Communicate to Fellow Riders! (We need your help to remind those who aren't following the rules!)