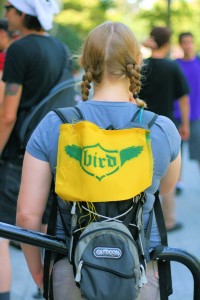 Do you want to make your mark on Bike Party?  Do you think we can build community through cycling for all of SJ?
Come to this month's volunteer meeting, where we will do such orangerific tricks as:
Review the upcoming route
Hang out with delightful BP peeps
Update on SJ's Diridon area planning process
Possible discussions:

wet-weather riding skillshare
talking points for bike advocacy
breaking the walls of bike culture
changing meeting venues

LAST-MINUTE UPDATE:  Discuss a request from SF Bike Party (no details yet, but they promise to send something and asked for us to talk about it)
This month's meeting will be held at:
Sophisto Society, 1177 W. San Carlos St, SJ
from 6:30 till 8:30 – feel free to bring a few bucks for pizza or some snacks to share if you like!
Be there and join us in making something special…