How can we keep Bike Party sustainable? After the last two months' issues…what can we all do to "Take Back Our Ride" this month?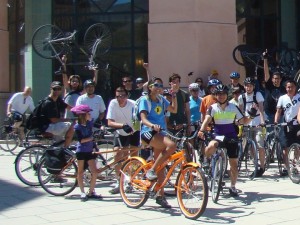 By all of us showing our Pirate Spirit! Let's "Take Back Bike Party" and demonstrate to others how we "Respect Our Ride" by following the "How We Ride" and riding legally! It's still fun!
So how can we all show our "We 
Bike Party!" spirit?
You & your friends sign up to be BIRDs
Attend BIRD training session/rides (many this month, see bottom of posting)
Add comments to the postings on this website and on facebook
Help get donations for Bike Party – we need $$ for whistles, megaphones, t-shirts, raffle prizes, etc.
Voice your support loudly & clearly to back up the BIRDs (who are trying to keep us safe & to not get expensive tickets)
"Share the Road" with cars & pedestrians. Stop behind cars, work together to let cars escape if they are trapped.
Be polite to motorists and police.
Other ways that you can come up with? (please share here and on facebook)
It's OUR ride, let's invoke our inner Pirate, let's find 100-150 others that will sign up to be BIRDs, and hundreds of others to back us all up… let's show everyone how "We 
Bike Party!"