The promise of rain couldn't keep Bike Party from happening last night. Approximately 1,200 riders were counted right after the Winchester Movie Domes.  What could have been a down pour in spots, turned out to be a fantastic ride!  Honestly, the weather couldn't have turned out nicer.  Many thanks for all the volunteers who posted up on corners and worked many hours behind the scenes to pull off this ride.  And yes fellow riders, we love that you made it out this month!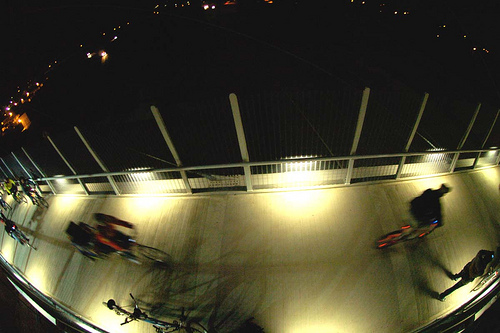 Highlights included the high energy levels that everyone brought as we rolled past neighborhoods and all over this town.  Music trailers and more systems on individual bikes kept the vibe going.  The Mary Street foot bridge remains an amazing image in my mind.  Seeing a taco truck at the rest stops was truly a bike party first.  And when the occasional spill happened, people stopped to help their fellow riders get back on the bicycle, simply amazing.   We truly hope that Bike Party is able to foster a sense of positive behavior as we hit the streets, meet new people, make friends, and continue to explore the community we are all part of.
Share your reflections here in the comments – if we see any recurring themes, we'll add to this post.
Please post & share photo/media links!