In the spirit of "Hot August Nights" in Reno where everyone tricks out their rides and shows em off…. SJ Bike Party Presents HOT AUGUST LIGHTS!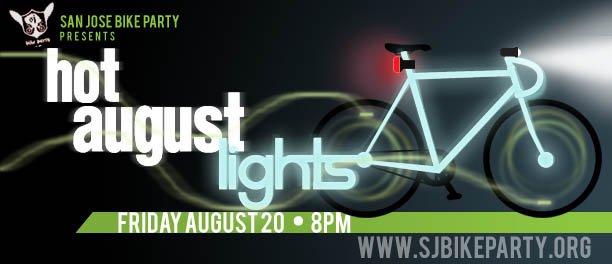 Get Lit?!? Hell yea! But your bike, not you!
Special Announcement! 5 food vendors this month, a Theme Contest & SJ's own world renowned musical group San Jose Taiko to play for SJBP! See below!
Food & Fesitivities @7pm
SJ Taiko @ 7:30pm
"Wheels on the Street" @ 8pm sharp!
Pre-Rides announced at the bottom of this page
Specific Ride Details (Start/Finish, Map & TxT directions) provided Thursday
Please read the "How We Ride" before you come – if you or your friends don't like Bike Party rules, don't come
Trick out your bike as weirdly as you can and compete for prizes! Contest details will be provided in the next week.
Even if you don't want to go all out – at least get a bright headlight and taillight! There have been many near misses due to riders weaving and cutting inbetween riders.  Not only does this not follow Bike Party "How We Ride" rules it's dangerous to everyone around you.
Thank you to our Theme Contest sponsors: MonkeyLectric, Bike Glow, SkullyBoom & GeoManGear (MagicShine)
(if you want to donate/sponsor, please contact Ian<at>sjbikeparty<dot>org)
Have a good time cheering/booing others that follow/don't follow the SJBP "How We Ride" mantra.
JUST CONFIRMED: SAN JOSE TAIKO WILL BE PERFORMING BEFORE THE RIDE!  BE THERE BEFORE 7:30PM!
SPECIAL OFFFER BELOW ALSO: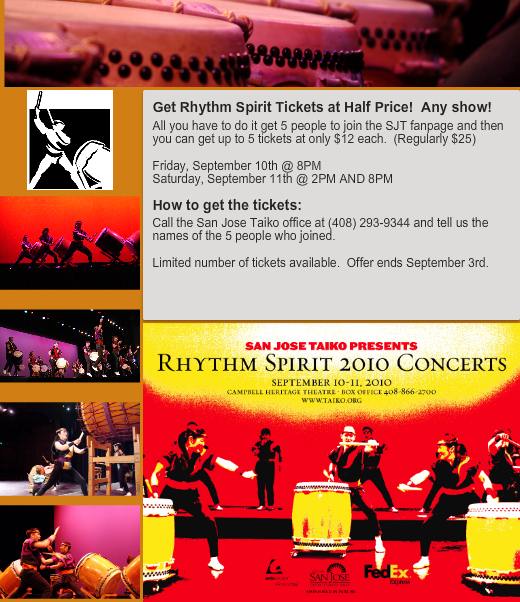 Route: Before you join us Please read the How we ride section of the site.
PreRides :
North SJ / Santa Clara Meet at @rivermark Peets departing ~ 6:15pm  – led by Ian
East SJ / Evergreen /Evergreen Valley High (under hanger) ~ 6:00pm – led by Tyler
South SJ / Robertsville Post Office – departing ~ 6:30pm – led by Townie Bill
Campbell / Campbell Community Center – departing ~ 6:30pm – led by Ed