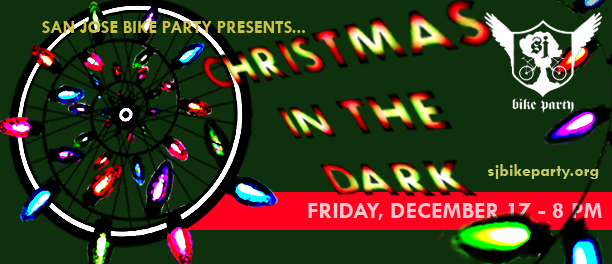 Bring a thermos of cocoa cause it's gonna be a cold but awesome night as we ride through some of the best decorated neighborhoods of San Jose. Decorate your bike with tons of lights as we show folks how we roll.
This ride will go on, rain or shine! Wet weather is no reason to stop riding, but it does mean that you should be prepared! Feel free to share your wet weather tips in the comments below.
We will be supporting Christmas in the Park and Second Harvest Food Bank.
Christmas in the Park is a San Jose Community Transition that is in danger of being cancelled next year due to the city's budget problems. Help prevent this by donating money towards the event. Donation boxes are available at the park, or you can donate online from a link on their website.
Please remember to bring some canned food (etc) for Second Harvest Food Bank.
http://www.shfb.org/mostneededfoods
If you donate $$ to Second Harvest, click this link before New Years to get it matched (doubles it) by the Sobrato Family Foundation.
http://www.shfb.org/sobratochallenge
(rs)
Route information follows:

Please remember the "How We Ride" rules! Follow the rules of the road, be courteous to others, and share the road!
If you've got a music system and have a way to keep it dry, bring it along! But please be considerate of the neighborhoods we ride in, particularly late at night. That means KEEPING THE VOLUME DOWN when riding on smaller residential streets. In addition, we may pass by musical performances or Christmas displays that include music of their own. Please respect their festivities as we ride by.
The start point is the parking lot under 280 between First and Second Streets. Please AVOID PARKING IN THIS LOT if you can.  It provides us with almost complete coverage from the rain! But is not that large, if you must park there … there are 3 aisles with 6 rows of parking. Please only park in the far south 3-4 rows of parking on the southern aisle[s] only 36-54 parking spots available for cars (the aisle with entrances are on the south side). This leave the rest of the area CAR FREE for all of us to mingle before the ride starts and for the Food Trucks!
There should be plenty of free street parking available in the area, and most meters stop requiring payment after 6pm. If people must park there, only use the parking under the 280 South portion. If you get there late,  after we leave, then you can park where we were (since all the bikes will now be gone).
We strongly suggest you consider the City of SJ 3rd Street garage between Santa Clara St and St. John… then exit on the 2nd St. side and ride down to the starting point. The starting point has entrances on 1st and 2nd St. We suggest you do NOT park in the old Camera 3 parking garage between 2nd & 3rd St above Pizza My Heart (it gets way too busy) and avoid the more expensive surface lots. The City of SJ parking garages are only $3!  For information on all lots and garages  in the downtown area, please see the  parking map – San Jose Downtown Parking
Our route goes through the 280/880/Stevens Creek Blvd area, which is currently under review for redesign. The current plans have limited facilities for bicycles and pedestrians. Please see the our earlier blog post for information on how to let Caltrans know what you think about this situation. Input must be received by Caltrans before Monday, December 20th to be considered.
Route:
Route details are listed below. Please familiarize yourself with the route and the directions. Bring a copy for yourself and one to share, and help each other along the way by calling out turns.
Prerides
NSJ/SC meet at Rivermark Peet's Leaving at 6:30pm lead by Ian (no unpaved trails)