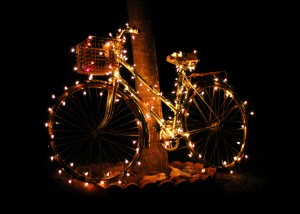 The Holiday Season is upon us This year we are planning on riding through the best decorated neighborhoods of the South bay. if you have suggestions for neighborhoods we should go through please post them below.
Remember while we will be enjoying the lights of these neighborhoods we should bring our own lights to share with them. and show them how bike party rolls! Feel Free to decorate your bike with lights.
Also we will be doing a Canned Food drive. at the START of the ride so Bring a CAN!
if you haven't yet joined our announcements list please use this link to subscribe to the bullhorn list. so you will be notified of upcoming testrides