Rain or Shine – We Ride and Have a Good Time! It almost never rains on bike party – and when it does – we've had a blast. Don't let a bit of rain or drizzle keep you away!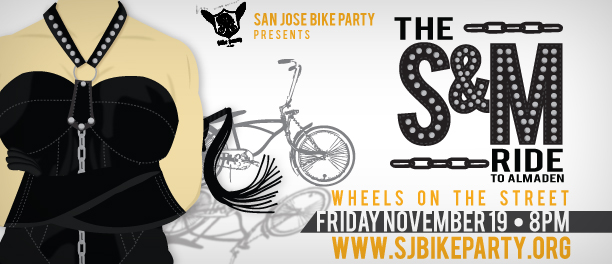 You have better get your safe word picked out Cause the Theme is gonna be  wild! Just remember that it's cold out there and leather chafes if you aren't used to it.
Here it is, the much anticipated S&M Ride.  Wheels hit the street at 8pm sharp. The Volunteer circle is at the start at 7:30pm. Don't be late.
Remember – follow all traffic laws and leave no trace! Please pick up after yourselves – don't trash SJ!
Click Continue Reading to Get your Kink on!
Hope you have your safe word chosen.  If not, here's some suggestions:
Stay to the right!
Left turn!
Right turn!
Car back!
Red light!
And so on.  Help a fellow rider out.
Winter's approaching which means a chance of rain and a certain chance of cold.  So weather-proof your leather!
For theme ideas, you can check out the "unofficial" Everything San Jose Bike Party Theme Page (courtesy of Atnms Brand).
As we head south into areas of San Jose that are new to us, please be sure to bring front and rear lights.  Darkness awaits, but we can cast the shining glow of Bike Party upon it (and stay visible and safe).  Tell your friends to do the same. Some bike shops offer a discount when you mention SJ Bike Party.
First time to Bike Party – or would like to improve the Bike Party experience? Prepare yourself for this by checking out our How We Ride.
Got some music?  Boom boxes, trailers, whatever you have, we love it!  And we're so thankfulto you for hauling it.  We know it's heavy but it makes the ride even more festive.  But please remember to turn it down a bit while we're on smaller, residential streets and as it gets later in the evening. Especially the music trailers – you need to turn the music DOWN where homes are, UP in the commercial areas!
Please do not park at the CORE start area! Keep our starts CAR FREE! We encourage you to ride in with a group of friends.  If you need to drive, though, please park somewhere that's not on the route and ride in from there.  We need to keep the congestion away from the beginning of the ride. The start is less than a mile from VTA Light Rail (to the north) and Camden Ave/Hwy 880 (to the south).
Please familiarize yourself with the route and the directions.  Bring a copy for yourself and one to share.  And help each other along the way by calling out turns.
Remember – follow all traffic laws and leave no trace! Please pick up after yourselves – don't trash SJ!
ROUTE DETAILS:
The starting location is on the map and directions.
FEEDER RIDES
NSJ / Santa Clara Starts at Mercado Shopping Center (Hwy 101 between Great America and Lawrence Expy) by the Subway. Leaves at 6:30pm, led by Ian
Others? Start your own!