Want a "sneak peek" into August' ride? And how you can help with the behind the scenes logistics to actually pull it off?
Join us and learn how we can all kick it up a notch this month. Join a "half" test ride to see how each of us can help lead 3-4k riders get out of downtown SJ toward the first 2 regroups and learn how you can help make this ride EPIC!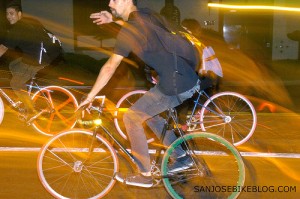 Test Ride Starting Time: 5:00pm, wheels on street by ~5:15pm.
Volunteer Fun Time:6:30-7:15pm
Volunteer Biz Time: 7:15-8:45pm
Return Ride to DT SJ: 9:00-9:35pm
Surprises/Agenda: Forthcoming
Who: Everybody's welcome – bring your "can do, creative juices!"
More details: Look on Facebook and here for more information over the next 24-36 hours! (see Continued Reading below)
We've never had a "mini" test ride, so we're definitely trying to "mix it up."
This early weekday eve test ride will not fit most people's schedules, but some want earlier test rides and we'd also like to experiment with making the "volunteer meeting" more ride centric for those that choose to.
If you just want to attend the meeting via car only or ride directly from work or home, please do so.
Pre-Ride/Test Ride Start Location: SJ City Hall
Meeting Location: North Park Apartments, Descanso, between Rio Robles & Brisas Dr, near Rio Robles & 1St St.