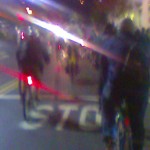 Just added – Tomorrow, Saturday, Nov 14th
10:30am-1:30pm (Pre-Rides @ 9:15 & 9:30am?)

Ride and give feedback, learn how best to help & have a great time! Become a volunteer – we need more BIRDs & Route Captains needed ASAP!
South SJ Main Ride @  10:15-10:30am start
DT SJ to South SJ @ ~9:30am start
DT Campbell to South SJ @ ~9:15am start
You can see more details on tomorrow's "Dry Run" on Facebook , but we will not publicly post the route or directions. These will be sent to directly to registered attendees. If you don't have facebook we may be able to help via email: sjbp.prerides@nullgmail.com
Also, starting at noon, SJFixed's South Side crew will be throwing the South Side Scramble alleycat race.  Single-speeds and fixed-gear bikes are welcome (despite the more restrictive flier text), and starts at the In-n-Out Burger on Blossom Hill.  Cost:  $5.