Archives by date
You are browsing the site archives by date.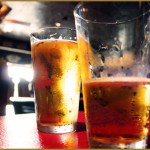 "Thank You" Event – Tomorrow Night – Tues, Nov. 10th, 7pm (doors will open earlier) Bike Party couldn't do it without all of you! Are you a very active volunteer? Are you a very active BIRD? Did you get your BIRD patch? Are you a BIRD w/o a patch? Do you want […]
Sun Oct. 25th Test Ride: Out There TWO Descriptions: 1st is for Standard Route, 2nd if for ADVANCED Route (500+ft climb in ~ 1 mile!) Start: Capitol Buick GMC (defunct) Nov Route – Counterclockwise – Oct 25th Test Incl McLoughlin R onto Capitol Expy R on Snell Ave (past BlossomHill, 85 & Santa Teresa) R […]
Just added – Tomorrow, Saturday, Nov 14th 10:30am-1:30pm (Pre-Rides @ 9:15 & 9:30am?)   Ride and give feedback, learn how best to help & have a great time! Become a volunteer – we need more BIRDs & Route Captains needed ASAP!   South SJ Main Ride @  10:15-10:30am start DT SJ to South SJ @ ~9:30am start DT […]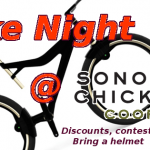 Take a break from this week's glorious rain riding to come celebrate Bike Party's 2nd anniversary! Like the idea of having a regular bar night with discounts for bicyclists? Come out to support Tuesday Bike Night at Campbell's Sonoma Chicken Coop – this might be the last night for this event unless it gets enough […]
Tonight, our second anniversary ride, struck yet another new mark in South Bay history, as four thousand riders (see count) hit the streets to build community through bicycling. Happy Birthday, Bike Party!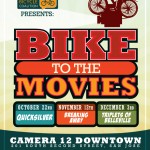 Join SJBP as we ride our bicycles to the movies! San Jose Bike Party has teamed up with the amazing Silicon Valley Bicycle Coaltion (the folks that brought you just about every bike trail, lane, facility, and legal right you have in this county) to promote this amazing FREE Bike to the Movies series! Details […]

First time?  Need a refresher? Check How We Ride! We have something a little different this month, so don't get scared!  We are starting the ride from 3 different locations.  (Yay, close to your house!!!)  The ride will then converge and everyone will ride together.  Many neighborhoods and many types of riders make up San […]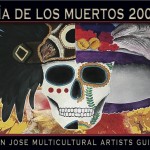 Test Rides are a great way for all riders, newbies thru expert riders, to experience Bike Party. For those wanting to help SJBP, joining a Test Ride is a great way to step up and experience the specific places on the ride where we'll need help. So join the rides this Saturday! We'll have great […]
Come learn how to plug in to the massive volunteer effort that makes Bike Party better every month!  Come sign up for fun things to do with fun people!  Learn awesome tricks and techniques! Monthly San Jose Bike Party meeting 7:00pm-8:30pm – Wednesday October 7th King of Campus printing 1177 W. San Carlos St Bring […]