Happy Holidays!
We have a neighborhood-focused ride full of holiday lights this month.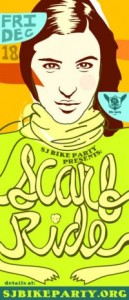 There are a few important things to remember:
Arrive on time!  Wheels hit the street @ 8pm!

Light up your bike!  It's dark, it's the holidays, DO IT.

Please don't forget to follow the "How We Ride." Make this a successful ride by keeping fellow riders, pedestrians, and cars happy and safe on their commute.  We don't want any crashes or $400 tickets.
Bring a canned food item or two to be donated to Second Harvest Food Bank.
The route for the event is here: Scarf Ride Route Map.
Please print (1-10+) these out before the ride:
The starting and ending point of the ride is 101 Paseo de San Antonio Walk – by the SJ Rep. Please do NOT park at the starting location.
Volunteers needed! Meeting @7:30pm (prob towards the SJ Rep box office)