Archives by date
You are browsing the site archives by date.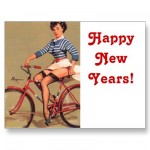 What are your New Years Resolutions? We can help you flatten some San Jose hills! TIME: Sat, Jan 2nd, 11:00am – 2:55pm ROUTE:  DT SJ, East SJ and Evergreen areas of SJ Start: SJ City Hall, 200 E. Santa Clara St. End: dt SJ OUR Test Rides' New Years Resolutions? To have many more riders step up […]
What a glorious bunch of holiday lights tonight! Tonight's ride was quite possibly the best received!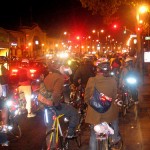 Happy Holidays! We have a neighborhood-focused ride full of holiday lights this month. There are a few important things to remember: Arrive on time!  Wheels hit the street @ 8pm! Light up your bike!  It's dark, it's the holidays, DO IT. Please don't forget to follow the "How We Ride." Make this a successful ride […]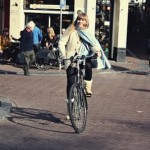 Its cold outside, so so cold so we are having a scarf ride!! This is an easy "costume," and you have NO excuses not to dress up.  We want to see that scarf fly like a flag! Because of the season, we are pushing the ride up slightly earlier.  Wheel's will hit the street at […]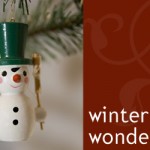 Wed, Dec. 16th,  5:30-8:30pm Join us for a Winter Wonderland party in at Sports Basement in Sunnyvale (Yelp for this location).  This is one of their sponsored discount nights for local bike organizations.  You get a discount and free food and drink, and Bike Party gets a cool venue for a gathering for a night. […]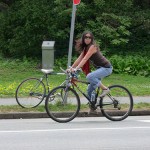 Test Rides are a way that we prepare the SJBP route & train volunteers for the main ride. We need many more volunteers & we need these tasks (listed below) performed for both the Test Rides and the main ride. Your help is appreciated.  For those that get up  early on a Saturday, or want […]
Another wonderful ride has carried us to our bedtimes, and asleep with pleasant memories of gliding down gentle grades we go. Tonight's ride harkened back to days past in Bike Party lore, with a ridership count of around 600, approximately a sixth of October's ride and a number we haven't seen since April.  Apparently the […]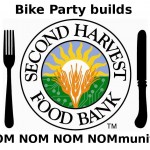 Weather update:  Forecast says dry skies for the ride!  Bring canned food!  Maps and Routes below updated for clarity! START: Hellyer Velodrome (7-8:30pm bike & roller derby races & party) – or – former Capital Buick/GMC (regular start) It's your choice! (park in Campbell, dt SJ or Capitol VTA – but NO parking in/near Hellyer […]

We seek your assistance to make this Friday's ride the best one yet! Lights – Your bikes need lights and taillights more than ever! If you are a bike store, from Highland to Walts to Sports Basement… let us know what discounts you may have available for SJ Bike Party attendees. We'll post here. Cameras […]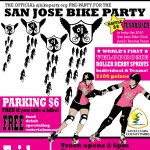 If you just linked directly to this page, be sure to check out the latest updates on the front page! (This page is older and lacks information) It's getting to be near that time once again!  Our 26th ride approaches on Friday, November 20th! Test riders and planners have been working hard to fine-tune the […]